Sunday Mornings 
9:30 AM – Youth Room, Jacob Shoup, Spencer and Stacy Tisher
Wednesday Nights
6:30 PM – Youth Room, Lisa Stotts
About
Our Sunday morning Bible study goes through the same topical study as the adults during the Sunday School time in between services. Our Wednesday night youth time is for our group of kids that are too old for OWL but not quite in Confirmation yet. Typically we have games and a topical study and discussion that is a great time for our kids continue to build a foundation for their growing faith.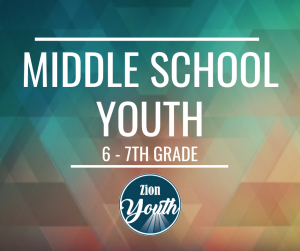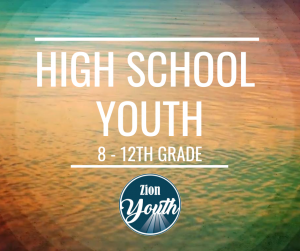 Sunday Mornings 
9:30 AM – Youth Room, Jacob Shoup, Spencer and Stacy Tisher
Wednesday Nights
7:30 PM – Youth Room, Jacob Shoup
About
Sunday School will be combined with our middle school kids in the youth room at 9:30 AM. The doors will be open by 9:15, so the kids can come down and hang out until class starts. Our Wednesday night youth time (7:30 – 9 PM) is for our High School kids and 8th graders who were at Confirmation during the middle school youth. This is our big event of the week for our youth so they won't want to miss it! Expect to participate in a time of worship, a game and then a message and discussion with your fellow youth. Separate youth events will be offered throughout the year such as bonfires, ice skating, Skyzone, servant events as well as other things. Please contact Jacob if you have any other questions about Zion Youth! 
Zion Lutheran Wednesday Night Activities
4:30 PM – Men's/Women's College Bible Study (alternate weeks)
5:30 PM – FREE-WILL Offering meal
6:30 PM – Confirmation/Adult Bible Studies/MS Youth
7:30 – 9 PM – HS Youth